Practice to Policy: International Perspectives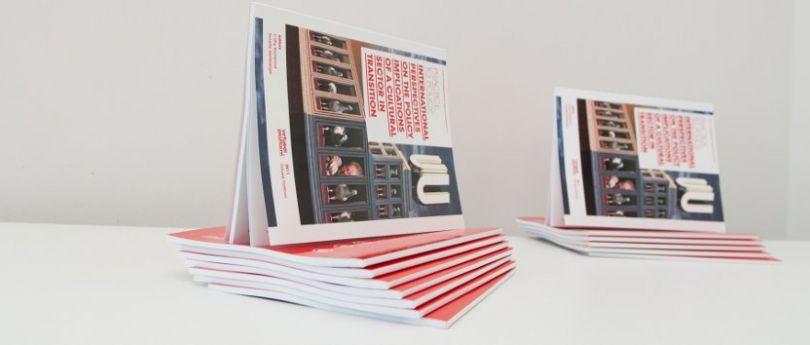 — De gevolgen van digitale technologie in de cultuursector voor beleidontwikkeling.
Dit artikel is alleen beschikbaar in het Engels.
​This book examines the changing nature of the cultural sector in relation to electronic and digital technology and the consequences for policy. It was compiled by Virtueel Platform as part of the Practice to Policy series.
Practice to Policy was a term adopted by a group of leading figures in the European new media culture field when they met in the Netherlands in 1997. This international conference looked at the role of new media artists and practitioners in the development of digital media and the consequences for policy, summarised in the Amsterdam Agenda. Since then, a series of international policy meetings has drawn up recommendations for the digital media age in relation to culture.
After more than a decade of summits and meetings between international policy makers and practitioners in the field of media culture, the time had come to examine the extent to which policy has caught up with what is happening on the ground.
Practice to Policy at ISEA 2010
Virtueel Platform asked a group of critical thinkers working in the new media culture field to take part in a panel debate at the 16th International Symposium on electronic Arts (ISEA) held in Dortmund in 2010, entitled Practice to Policy 2010: Barriers to Transformation. The new media culture sector is increasingly acknowledged by policy makers as a source of transformation for the arts and cultural sector itself but also for the economy and society as a whole. The meeting aimed to examine how the relationship between electronic culture and the broader cultural sector is changing, and how commercial and non-commercial/cultural organisations interrelate. The panelists were asked to contribute texts for an international publication based on their presentations. Isaac Mao was also asked to contribute an article for the publication.
Among the key issues around e-culture and policy include the relationship between e-culture and innovation in the broader arts and media sectors; the value of distributed networks and new forms of participation and skills; the relationship between infrastructure and content, process and product; issues of open source models for the production and distribution of culture.
This publication aims to provide input for and to inform policy makers in the field of media arts, culture, and adjacent areas such as education, research; and provide the media culture community with a knowledge base of international case studies and policy frameworks with which to work on advocacy.
CONTENTS

Introduction by Cathy Brickwood & Annette Wolfberger
"Shifting media culture perspectives" by Sally Jane Norman
"The cultural politics of organised networks: from exchanges to cooperation" by Geert Lovink
"Public cultural institutions 2.0" – Are such hybrids viable? by Alek Tarkowski & Miroslaw Filiciak
"New model for policy-making in the new media age" by Isaac Mao
"Four schisms in new media and cultural policy" by Jaime Stapleton
Contact