Kennis /
Meet the HOT100 2011 pt. 2: Theory, Media Art, Datavisualisation, Audiovisual, Visuals, Coding, Usability Design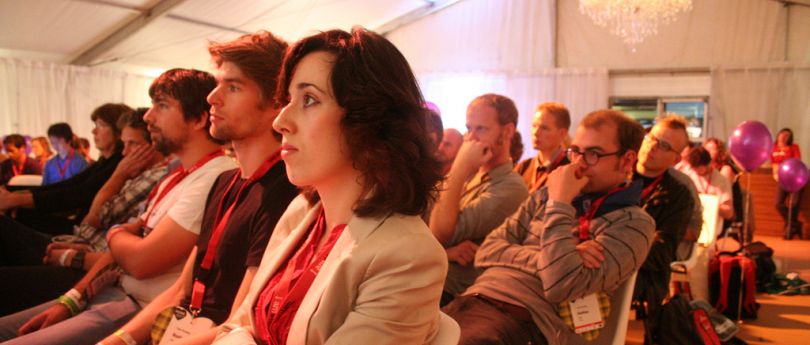 — Maak kennis met de HOT100 2011 talenten op het gebied van media, kunst en technologie.
Here you can find all HOT100 2011 talents tagged with Media Art, Theory, Datavis, Audiovisual, Visuals and Creative / Web Code and Usability Design.
MEDIA ART
Billy Schonenberg
website: www.bllly.nl
DESIGN IS STORYTELLING.
Billy Schonenberg is a designer with a passion for stories and illustrations. He works as a designer and researcher at Eco-currency, an initiative that tries to enhance the harmonisation of the ecology of economics and the ecology of the environment. Billy believes design can be used as a canvas on which you can almost literally draw.
He uses this idea of a canvas as a source of inspiration and insights from other fields such as history, biology and art. He combines these fields to tell interesting stories, raise questions and address issues/create awareness in society. This is what drives Billy.
Billy has a Bachelor's and a Master's Degree in Industrial Design from Eindhoven University of Technology. In the final year of his bachelor degree, Billy travelled to Japan to work for the Advanced Telecommunications Research Institute International in Kyoto.
He designed the interface and interaction design of a handheld translation system. This is a two-way speech-to-speech system that translates English to Japanese.
MSc in Industrial Design, Eindhoven Technical University
BSc in Industrial Design, Eindhoven Technical University
Tiemen Rapati
website: www.tiemenrapati.com
CONCEPT, CODE & AESTHETICS.
Tiemen Rapati is a young designer wandering at the intersections of art, design and technology — pixels and print — 2D and 3D — raw data and poetics. Exploring the fields of graphic design, architecture, data visualisation, photography and code, he moulds his interests into the best shape he can. Recently graduated from the ArtEZ Institute of the Arts in Arnhem, his work is already on display at the NEMO Science Centre in Amsterdam, and has been featured on TodaysArt Festival 2009 in The Hague, GoShort Festival 2009 in Nijmegen and the 2010 Discovery Festival in Amsterdam. During the summer of 2010 Tiemen interned with United Visual Artists in London for three months, and has been hired to continue working there in 2011. United Visual Artists are a British-based collective whose current practice spans permanent architectural installations, live performances and responsive installations.
Tiemen's graduation projects are ESCAPE and ALEPH. ESCAPE takes on the experience of digital landscapes and ALEPH is an interactive visualisation of his memory. Previous works include Colour Dynamics, where Tiemen delayed the RGB channels in a real-time, showing movement in colours, while everything static remains black and white, and collaborative project Soundportraits where Live data from a webcam is converted to sound, and back again into image.
BA in Information & Interactive Media Design, ArtEZ Institute of the Arts, minor in Digital Typography
Works at United Visual Artists (UK)
Birgit Bachler
website: www.birgitbachler.com
QUESTIONS THE BEFRIENDING OF COMPUTERS AND THE PROGRAMMING OF HUMANS.
Birgit Bachler has a comprehensive knowledge of code and technology. She did her undergraduate studies in Austria and has recently completed her Master's Degree in Media and Interaction Design at Rotterdam University of Applied Sciences in Holland. Her graduation project, the Discrete Dialogue Network, is an attempt to move away from banal status updates on Facebook and create a structure where people can communicate outside their rigorously filtered friend circles. It is a telephony-based communication network that allows users to leave anonymous voice messages for strangers in the public space.
Birgit works as a freelancer with interactive and audiovisual media and code. Within her research she examines the impact of online/offline networks on our everyday lives. She deconstructs known structures of interaction with media and experiments with them in unusual and playful contexts. Her projects often combine the straightforwardness of code and the unpredictability of human behaviour, and try to create a space for reflection on the tools we use and the media we become dependent on. Her works include a dating-like website built on grocery shopping data, an alternative map of Rotterdam based on people's window decorations, and a phone booth through which the Internet can call passersby.
MA in Media Design and Communication/Networked Media, Rotterdam University of Applied Sciences
BA in Information Design, FH Joanneum University of Applied Sciences, Austria
Daniel de Zeeuw
website: www.varvaras.net
CONSPIRACY THEORIST, PARA POLITICIAN, PARANOID OF CYBERNETICIANS AND ANTI-OEDIPI, WOULD-BE MUSICIAN, CYNICAL ASSHOLE.
Daniel de Zeeuw has been studying two different degree subjects at two different institutes in Amsterdam. He is attending the Interaction Design and Unstable Media course at the Gerrit Rietveld Art Academy and is studying for a Bachelor's Degree in Philosophy at the University of Amsterdam. He was part of the Art and Research honours programme 2009/10 organised by The University of Amsterdam and the Gerrit Rietveld Academy. This programme was designed for students wanting to enrich their studies with more in-depth knowledge.
Recently Daniel has become increasingly interested in concepts and practices relating to conspiracy theories. For one of his assignments he created a setting (like an internet café/control room) where visitors were forced to become complicit with the conspiring networks he created/augmented. The aim was to break the contemplative hyper-inertia typical of artistic perception models. For this reason, Daniel only used the interface most of us use in our daily lives: a desktop computer. According to Daniel, ´this scared the shit out of most people!´ Daniel maintains that the functions of conspiracy theories need to be explored through design-desire, narrative and infection as well.
Studying for a Bachelor's Degree in Philosophy at the University of Amsterdam and a Bachelor's Degree in Interaction design and Unstable Media at the Gerrit Rietveld Academy Amsterdam.
René Bosch
website: www.renebosch.com
CAN I TRUST WHAT I SEE? AND: DOES IT MATTER IF I CAN TRUST THE DIGITAL IMAGE?
René Bosch is a self employed artist and photographer. The mass communication of already existing photographic images is often a carrier of his work. René's goal is to take a position in this mix. His work often exists in the field of mass communication such as the Internet or the staged mass-media world of advertising. The possibility to manipulate digital images into new images, 3D images, for example, creates a new field for commercial usage but also forms the basis of his work.
Digital images viewed on the Internet are transformed into images where 'missing information' plays a major role. These images lack information due to their low resolution, and elements such as text and details disappear. This missing information calls for a new approach to experiencing these images. Another point of interest for René is the type of images in Google Street View. The washed-out identifying features – faces, advertisements, number plates and sometimes, even buildings – produce an entirely new experience of the photographic image. René is currently working on A Memory in a Box, an art project that stores peoples' memories and senses in a box that can recall them on demand.
BA in Fine Art, Gerrit Rietveld Academy
Graduation work: Augmented Reality Street Views, manipulated Google Street View images
Work: Lost information, a light-box of Internet images of shampoo bottles printed in low resolution
Ruben Boxman
website: www.snowvideo.nl
LOVES TO CREATE TOTAL EXPERIENCES THROUGH INTERACTIVE INSTALLATIONS AND NEW MEDIA EXPERIMENTS IN THEATRE.
Since 2001 Ruben Boxman has collaborated with Adri Schokker (see elsewhere this booklet) as the interdisciplinary artistic duo Snow. Their work includes interactive video installations, media concepts for theatre, and participatory veejay performances (Nou&Herkauw). Their work combines many different high- and low-tech techniques and materials, balancing between the worlds of tangible, analogue and digital. Because of their backgrounds in sculpture they like to make things, build spaces, create miniatures, but always combine this with creating interaction, developing media tools and writing code. They explore themes such as the individual versus the masses, not/networks, the digital image versus the physical world, participatory processes, and the power of the masses.
For their graduation from the Frank Mohr Institute Ruben and Adri both created new installations based on their ongoing research project The Tower. The Tower is an interactive video installation where, by entering personal data and submitting to an iris scan, participants can upload a video of themselves to a visual database. Only after this process can the participant access data provided by other participants. The Tower questions privacy issues that seem to coincide with participation. Ruben's graduation project The Tower, Church of Separated Silences, incorporated group movement into the project.
MFA Department of Interactive Media & Environments, Frank Mohr Institute, University of Applied Sciences
BA in Sculpture, Constantijn Huygens Art Academy
The Tower, a participatory installation at the Night of Arts and Science, Groningen: denachtvankunstenwetenschap.nl
Thompson Graham Dube
INNOVATIVE INTERACTION DESIGN / CONCEPT / UNIQUE FLOWCHARTS & SCHEMES / RAZOR SHARP INFORMATION DESIGN / CONCEPTUAL INFO GRAPHICS / LEGIBLE TYPOGRAPHY
The You Ain't Shit But a Fucking Millionaire project features an interactive installation that provides users with an 8-minute long interactive music experience. The project features cutting-edge sensorial interaction design, unique graphics and sounds. Human-Computer interaction is established by hijacking Microsoft Kinect sensor and connecting it to Adobe Flash Actionscript 3. Thompson Graham Dube designed this installation for his graduation project at AVANS University of Applied Science, Breda. You Ain't Shit But a Fucking Millionaire aims to prove that there is still room for individual style in multimedia design.Thompson likes to classify this project as 'an anarchistic satire on modern culture'.
Thompson currently works in Amsterdam as Designer for Edenspiekermann. During his studies he specialised in Interaction Design and he is happy to continue working in this field.
BA in Communication and Multimedia Design fromAVANS University of Applied Science, Breda.
Works at Edenspiekermann at the interface of strategy, design and communication edenspiekermann.com/en/people/ thompsongraham-dube)
Tim van Cromvoirt
website: www.timvancromvoirt.com
INVENTOR & CREATOR OF NEW LIFE FORMS WITH THE HELP OF TECHNOLOGY AND SYNTHETIC/ARTIFICIAL MATERIALS.
When Tim graduated from the AKV|St Joost Academy in Breda, he was awarded the prestigious St Joost medal for his graduation project Thermophores. Tim built an organism that he called Thermophore. It is an installation incorporating plant-like creatures with pigments on their metal tentacles that react chemically to temperature fluctuations and change colour. By regulating the climate Tim could control these chemical reactions and thus the colour changes of the Thermophores. The combination of the pigment and the form made it look and feel like a real organism.
Tim van Cromvoirts´ work examines methods and technologies that can intersect so that real life can be experienced. Tim started as a Fine Arts student, where he discovered the potential of using technology in his work. He has done plenty of theoretical research in the biological field and this particular interest is revealed in his work. The installations he creates are tools to express his underlying scientific research. Tim will continue creating biological projects as a visual artist. After working with mechanical and chemical processes in his artworks, Tim expects to create more beautiful living artworks with the help of nanotechnology.
Bachelor's Degree in Interaction Design from AKV|St Joost Academy in Breda
St Joost award for his organic art installation Thermophores
Lungplants – a fragile organism that keeps itself alive by pumping air in and out
THEORY
Bas Bergervoet
website: www.bergervoet-agueras.de
CRITICAL ANALYSIS & MEDIA CREATION.
Educational Technologist Bas Bergervoet works at the Media and Learning Unit of the CKatholieke Universiteit Leuven, Belgium. He specialises in the meaningful use of audiovisual and online media in higher education. In his job he advises teachers and experiments with new educational technologies, such as mobile devices and video-conferencing tools. He also participates in a project where a complete masters programme will be adjusted to fit the needs of working students by using different kinds of media technologies. Prior to his current job, Bas worked for three years in Berlin as a freelance video producer. He interviewed German politicians for two political websites, covering PICNIC-like events in Germany for a German blog and creating image videos for several small- and medium-sized companies.
Bas has a Master's Degree in New Media and Digital Culture from Utrecht University. During his course he specialised in game studies, (medical) augmented reality, digital music culture, and hybrid (physical + virtual) maps. He did an internship at V2_ in Rotterdam, creating concepts for bringing Beeld & Geluid's digital archive material closer to the public using new media technologies. In his masters dissertation he explored the theme of transition in archiving due to digitalisation.
MA in New Media and Digital Culture, Utrecht University
BA in Communication and Information Studies, Utrecht University
Newmediastudies.nl: project manager of the relaunch of the website of the Master New Media & Digital Culture
Slimmerkunde: a high school methodology which teaches teenagers digital skills and media literacy, of which Bas is one of the authors: www.slimmerkunde.nl
Bree Thahapary
website: www.digibreet.nl
CRITICAL, POSITIVE-MINDED AND CREATIVE SPIRIT WITH A PASSION FOR NEW MEDIA AND ART.
It was while studying for his Bachelor's Degree in New Media that Bree developed an interest in the concept of space and how new media can affect it. For his graduation project at the MediaLAB Amsterdam he was a member of an interdisciplinary team that created the first ever augmented reality art exhibition in Dutch public space for the Stedelijk Museum in Amsterdam. This exhibition, which uses the Layar Reality Browser on Android and iPhones, was part of the museum's ARtours programme.
Bree became an intern for the communication and marketing department at Theatre and Production Company MC. He worked on a variety of projects and one of his tasks was to make a design for a mobile application. After his internship Bree continued to work for MC as an art and culture journalist. Bree is also a web editor and a volunteer for Buka Mulu, a platform for Dutch Moluccan youth aspiring to improve their position in Dutch society.
MA student New Media, University of Amsterdam
BA in New Media, University of Amsterdam
Culture Journalist for MC
Web editor for the website Buka Mulu (meaning 'open your mouth' or 'speak') for the Dutch Moluccan youth.
Catalina Iorga
website: www.catalinaiorga.wordpress.com
MEDIA STUDIES RESEARCHER/FREELANCE JOURNALIST INTERESTED IN SOCIAL NETWORKS, ARTS & CULTURE.
Born and raised in Romania, Catalina Iorga now lives in Amsterdam. She has a Bachelor's Degree in International Politics and History from Jacobs University Bremen and graduated from the Research Master's programme in Media Studies at the University of Amsterdam. Catalina Iorga's master dissertation focuses on Facebook and publicness. She is particularly interested in public practice that emerges in Facebook spaces, such as Groups and Pages dedicated to controversial issues. Catalina also examines the organisation of ´the public´ via social plug-ins, such as the 'Like' button.
Catalina often collaborates with the Digital Methods Initiative. She participated in the DMI Summer School two years in a row and was one of the resource persons for the 2011 edition. Her digital-methods projects dealt with topics such as cross-platform syndication, the technicity of comment spaces, and data-driven journalism. Catalina is also a freelance journalist for Time Out Amsterdam and has written about major events such as Queens Day and the Art Amsterdam Fair.
MA in Media Studies Research, University of Amsterdam
BA in International Politics and History, Jacobs University Bremen, Germany
Blogged for the Institute of Network Cultures during the 'Economies of the Commons 2' and 'Video Vortex #6' conferences.
Liliana Bounegru
website: www.lilianabounegru.org
WRITER, SCHOLAR AND CONSULTANT WHO EXAMINES THE IMPACT OF TECHNOLOGY ON MEDIA, CULTURE AND SOCIETY.
At the moment, Liliana Bounegru is conducting research in the Media Studies Department at the University of Amsterdam and is an independent consultant for the European Journalism Centre. She has published on contemporary interactive media art projects for public urban spaces and pictorial and multimodal metaphors in editorial cartoons. She recently submitted a paper about mapping the abortion debate on the Romanian web at the Media in Transition Conference at the Massachusetts Institute of Technology (MIT). Her work also examines the recent discourse around data-driven journalism.
At the European Journalism Centre (EJC), her work focuses on how digital technologies transform reportage. The EJC is a non-profit institute, which promotes higher journalistic standards through events and training courses for journalists and media organisations. She coordinates work on the EU research project SYNC3, the purpose of which is to build a tool for mapping the blogosphere. Last year she organised one of the first international conferences on data-driven journalism in Europe, and this year she will be curating the EJC session on media and urban futures at the leading European media festival PICNIC.
MA in New Media and Digital Culture, Amsterdam University
Curated the conference on data-driven journalism in 2010
Article: 'Multimodal and Conceptual Metaphors in Editorial Cartoons Representing the Global Financial Crisis', Co-author Prof. Charles Forceville, in Visual Communication 2011, vol. 10, no. 2, pp. 209–29
Curator of the European Journalism Centre session on media and urban futures at PICNIC 2011
Vera van der Lubbe
website: nl.linkedin.com/in/veravdlubbe
HOW CAN NEW MEDIA MAKE LEARNING FUN? ACCORDING TO KIDS, IT'S ALL ABOUT GAMES AND VIDEOS.
Vera van der Lubbe started her academic career studying religion at the VU University, Amsterdam. She continued her education with a Master's course in Media and Communication. After that Vera decided to further develop her knowledge on media and followed the New Media and Digital Culture Master's programme at Utrecht University. Her graduation project centred on the use of digital blackboards, also known as Smartboards or interactive whiteboards. How do teachers think the device could and should be used and how do they actually use it? Vera tried to find out if this particular usage is linked to a specific educational theory.
Vera did her internship at the Anne Frank Foundation where she researched the opportunities of new media for virtual learning. She advised the Foundation to make new educational material that is appropriate for electronic whiteboards: visually attractive, audio to support the images and that helps those students who cannot read that well yet. She also suggested that they make better use of their already existing virtual platform: the Secret Annex Online. Vera would like to continue working in the field of new media and education so that she can help teachers and students make the most of their new media tools in education.
MA New Media and Digital Culture, Utrecht University
MA Media and Communication, VU University, Amsterdam
MA Religious Studies, VU University, Amsterdam
Intern at the Anne Frank Foundation
Xander Stolwijk
website: xanderstolwijk.wordpress.com
CREATIVE AND CRITICAL THINKER, AT HIS BEST IN THE ROLE OF TEAM CAPTAIN IN A MULTIDISCIPLINARY TEAM WORKING ON NEW MEDIA PROJECTS.
Xander Stolwijk studied Information and Communication Technologies and Electronics, followed by a course on Media, Marketing and Publishing at the Hogeschool van Amsterdam, University of Applied Sciences. He then completed a pre-Master and Master's in New Media and holds a Master of Arts in Media Studies from the University of Amsterdam.
Xander worked as the team captain on the Mobile Tagging project at the MediaLAB Amsterdam, commissioned by Sparked and Randstad employment agency. This project was organised around the development of a QR-code campaign linking offline media with Randstad's online job service, appealing to the target group's interests by making use of Smartphone technology. Xander also participated in the Metareporter research project by investigating and reporting on how new media are portrayed on a daily basis in Dutch newspapers. He also contributed to the Master's of Media Research blog by analysing and writing critical reports about the ways in which new media productions articulate social and cultural practices. Xander's ambition is to keep working on new media projects with a multidisciplinary team in the function of team captain.
MA in New Media, University of Amsterdam
BA in Media, Marketing and Publishing, Hogeschool van Amsterdam, University of Applied Sciences
DATA VISUALISATION
Adri Schokker
website: www.snowvideo.nl
COLLECTING BODILY TRACES OF SPECTATORS AS DATA TO COMPLETE INSTALLATIONS.
Media artist and VJ Adri Schokker, has a Master of Fine Arts Degree from the Frank Mohr Institute, University of Applied Sciences Groningen, and a Bachelor's Degree in Sculpture from the Constantijn Huygens Art Academy. Adri´s graduation work Reconstruction of a Catastrophe used 3D full body scans and prints of the audience to recreate a scene that shows the moment after a catastrophic event resulting in a narrative that describes the consequences of a destructive force.
Since 2001 Adri has collaborated with Ruben Boxman (see elsewhere this booklet) as the interdisciplinary artistic duo Snow. Their work includes interactive video installations, media concepts for theatre, and participatory VJ performances (Nou&Herkauw). In their work they combine many different high-tech and low-tech techniques and materials, balancing between the worlds of the tangible, the analogue and the digital. Because of their backgrounds in sculpture they like to make things, build spaces and create miniatures, but always combine this with creating interaction, developing media tools and writing code. They explore themes such as the individual versus the masses, not/networks, the digital image versus the physical world, participatory processes, and the power of the masses.
MA in Fine Arts, the Frank Mohr Institute, University of Applied Sciences
BA in Sculpture, the Constantijn Huygens Art Academy
Freek Gerritsen
website: www.freekgerritsen.com
VISUALISING COMPLEX DATA INTO CLEAR INFOGRAPHICS.
After spending a couple of years in Singapore, Freek Gerritsen returned to the Netherlands to study Communication and Multimedia Design at the Avans University of Applied Sciences in Breda. For the duration of his final year, Freek decided to focus on designing infographics. He took a minor in information visualisation and after leaning and enjoying the techniques of turning data into clear design, decided to turn the art of designing infographics into his graduation project.
He made five print infographics and one physical infographic about the Communication and Multimedia Design course and it's students. Freek wanted to show people who have nothing to do with this department what the course is all about and who the students are. He also designed an interactive infographic for the Technology of Health and Environment Department at Avans University, which visualised the comparison between the demand for power and heating and the power and heating potentials of each municipality in Noord Brabant. Freek intends to find a job where he can use design to make complex data easier to understand for those who need it.
BA in Communication and Multimedia D, Avans University of Applied Sciences
Minor in Information Visualisation
Internship Interaction Design at Edenspiekermann
Graphic Design, LaSalle University, Singapore
AUDIOVISUAL
Bogomir Doringer
website: www.bogomirdoringer.com
DERANGE TO ARRANGE!
Bogomir Doringer received his Bachelor's Degree from the Gerrit Rietveld Academy in Amsterdam. His graduation work Deranged was nominated as the best graduation work in 2009. A few months later he enrolled in the Netherlands Film and Television Academy with his project Hospitality, known during the research as Balkan Syndrome. Bogomir researched the relationship between fiction and reality and discovered different forms of fabrication.
While studying art, Bogomir noticed that his projects tended to translate the construction of the film narrative. He would arrange elements of his projects as if they were on a film timeline and then extend them within the physical space, instead of on the screen. This way, the spectator of his work could move through the work. In his projects, Bogomir works with fabricated socio-political issues represented by mass media that he finds intriguing because of their content or the way in which they are treated by media or society. He starts his work from media fabrications, and uses them as a basis to challenge the relationship between fiction and reality. His projects work on different platforms, divided in elements that can work independently or together, thus confronting different groups of participants. Bogomir hopes this will lead them to think about or discuss the questions his work poses.
BA in Fine Art, Gerrit Rietveld Academy
MA in Film, the Netherlands Film and Television Academy
Other projects: Fashion and Despair (2008), Conflict Box (2007) and Illegal Chair (2006)
Joerie Nijhuis
website: www.joerienijhuis.nl
USING NEW MEDIA TO BRING COMPANIES AND CUSTOMERS TOGETHER AND PERSONALISE THEIR COMMUNICATION.
Joerie Nijhuis studied Communication and Multimedia Design at Zuyd University of Applied Sciences. He works as a freelancer specialised in marketing, communication, new media and audiovisual design. His graduation project was an interactive video about cyberbullying via social media. The video informs teenagers between 12 and 16 years old about the consequences of their actions. Joerie interviewed several experts in the field of bullying, cyberbullying, entertainment-education and social media. These interviews, together with extensive literature research, allowed him to develop a creative and effective concept and prototype video.
Joerie was involved in several new media projects, including the development of a new student/teacher portal for his school, a new communication strategy for the local government of Roermond and new media application concepts. Furthermore he directed, shot, and edited several audiovisual projects, including live shows, commercials, short movies and documentaries. In 2012 he will start a Master's programme in International Business at Maastricht University. Joerie wants to combine his knowledge of new media, communication and audiovisual design with entrepreneurship in order to become a multi-discipline and creative entrepreneur with a strong vision of new media.
BA in Communication and Multimedia Design, Zuyd University of Applied Sciences
Internship at Van de Laar & van Efferen
Nina Caspari
website: www.ninacaspari.com
RHYTHMICAL, CONFUSING FANTASY DIMENSIONS
Nina Caspari from Germany works with the moving image. She graduated with a Bachelor's Degree in Crossmedia Design from at ArtEZ Institute of the Arts, Enschede, and specialised in the moving image in video and photography. Her graduation project La Graunch is a video that plays with the concept of reality, suggesting realities that are not present. To 'graunch' means to 'crush' or 'destroy', and the project was inspired by the idea of Lagrangian points, which mark the positions where a small object affected only by gravity can theoretically be stationary relative to two larger objects (such as a satellite with respect to the Earth and the Moon).
Nina recently exhibited her work at the Twente Biennale in Hengelo. Future projects will involve working with musicians to combine sound and visuals. Nina wants her works to evoke feelings by using moving images.
Bachelor's Degree in from ARTez Institute of the Arts, Enschede
VISUALS
Bart Nederveen
website: www.bartnederveen.nl
VISUAL DESIGNER WITH A GREAT PASSION FOR CRAFTING ALL KINDS OF STUFF.
Bart Nederveen is a visual designer. He recently received his Bachelor's Degree in Communication and Multimedia Design from Rotterdam University of Applied Sciences. Bart has a great passion for crafting all kinds of things, ranging from superfine interactive media to huge Lego castles and delicious lemon ice cream. The trick is to always find the best possible way to do anything.
Bart did his graduation internship at IN10 Communicatie. IN10 is a creative agency for interactive brand communication. Their aim is to connect people to brands in relevant ways. They develop marketing strategies and concepts that move and activate people. During his internship he undertook a comprehensive study into how brand-attachment can be increased by using interactive installations in public places. Bart is currently working at IN10 as a junior creative. In the near future he plans to gain more experience as a visual designer with the aim of creating meaningful interactive products that really add value to peoples lives and which are stunning to look at.
BA in Communication and Multimedia Design, Rotterdam University of Applied Sciences
Graduation internship at IN10
Internship at Fabrique focusing on visual design
Ewoud Heidanus
website: www.ewoudheidanus.nl
VISUAL EFFECTS ARTIST.
During his studies, Ewoud Heidanus worked on several large and successful Dutch feature films such as Sint by director Dick Maas and Oorlogswinter by Martin Koolhoven. Ewoud studied Visual Effects at the Netherlands Film and Television Academy in Amsterdam. Ewoud worked on the graduation film Een Bizarre Samenloop van Omstandigheden with seven fellow Visual Effects students. Ewoud was the on-set Visual Effects Supervisor and Visual Effects Compositor for this fun short film.
Before Ewoud Heidanus started working as a freelancer he worked for Filmmore Amsterdam, a post-production company for films and television series. As a child he grew up watching films like Ghostbusters, Superman and Back to the Future. Ewoud hopes to work on Hollywood films and plans to continue creating breathtaking visual effects for audiences all over the world.
BA in Visual Effects, Netherlands Film and Television Academy in Amsterdam
Worked with Visual Effects for these films: Sint, Oorlogswinter, Mijn Opa de Bankrover, Majesteit, Bride Flight
Gaynelle Szoboszlai
website: www.gaynelle.nl
(............INSERT AWESOME TAGLINE............)
When Gaynelle Szoboszlai first started her studies at the ArtEZ Instituut for the Arts, she did so with the intention of becoming a photographer. But she felt limited by the medium of photography, and the moving image is what ultimately inspired Gaynelle to switch to Art and Crossmedia Design. She made a music video and an animation video for her final project. Gaynelle wanted these two projects to reveal the two sides of her personality: one side shows how well she works conceptually and the other side revealed her desire to tell stories about monkeys in space.
Gaynelle´s work can start with a well thought out concept or something that comes to mind while making a toasted cheese sandwich. What has always fascinated her about creating images is the possibility of expressing yourself and placing the world in a different perspective. This makes it an interesting vehicle to communicate thoughts and ideas.
BA in Art and Crossmedia Design, ArtEZ Institute for the Arts
Works at in60seconds
Part of the Digital Film Lab (DFL)
Worked a lot with the band Stephany June
Hong Xi Guo
website: www.hongxiguo.com
A CROSSMEDIA DESIGNER WITH A STRONG AFFINITY FOR PHOTOGRAPHY.
Hong Xi Guo is an open-minded Chinese crossmedia designer and photographer. He graduated from the Guangzhou Academy of Fine Arts and had two years of experience as a photographer before coming to Holland. Studying overseas at ArtEZ Academy of the Arts & Design in Enschede enriched his character and broadened his horizon. Understanding both Western and Eastern culture has motivated his choice to become a crossmedia designer. He is good at making poetic and abstract photographs, but wanted to go further in expressing the moods and meanings of photographs. He therefore decided to combine sound and image for his graduation work.
His graduation work is the metaphorical film Fleeting Life (13'00) that combines aspects of the West and the East to create the plot. 'We're all on a path, travelling all the time, sometimes we lose our way because of too many choices, and we don't even know what's going to happen in the next moment. That's... Fleeting Life.' He intends to follow a master's course in photography in Belgium from September 2011, and is looking forward to crossover and working with you.
BA in Art and Crossmedia Design, ArtEZ Academy of the Arts & Design
Higher Diploma in Painting from the Guangzhou Academy of Fine Arts, China
Photographer at Bobw Studio, Shunde, China
CODING
Heinze Havinga
website: www.heinzehavinga.nl
CURIOSITY, SHARING KNOWLEDGE AND HAVING FUN CAN TAKE YOU ANYWHERE.
Heinze Havinga has been freelancing as Leftfoot Media for a few years now. He was involved in projects like Open Data Enschede and Projection Waag Museumnight. He mostly builds web apps and mash-ups. He also does some creative coding and works a little on design and motion graphics. Heinze also helps to set up events and meetings relating to open data, creative coding and anything else that interests him. In the future Heinze would love to organise events and be involved in projects with people he finds interesting. Combining skill sets and social connections to create things that would be hard or impossible to do without each other is incredibly rewarding.
In his four years as an Art and Technology student, he built everything from robots, to animations to weird grease-monkey web mash-ups. He graduated with an honours degree that he earned partly due to his successful internship with 100%fat, where he worked on a radio tomographic motion-detection grid made from 28 Arduino's and Xbee chips, which was immediately obsolete because of the Kinect. But it was still a valuable lesson in mesh networking, Arduino programming, soldering and signal analysis. Heinze's current projects are mostly aimed at promoting creative uses of technology and acquiring people skills.
BA (Honours) in Art and Technology, Saxion University of Applied Sciences
BA in Information and Service Management, Saxion University of Applied Sciences
Jan Hoogeveen
website: www.janhoogeveen.eu
NEW MEDIA ARTIST USING HYBRID DESIGNER AND DEVELOPER SKILLS FOR MEANINGFUL HUMAN-COMPUTER INTERACTION.
Jan Hoogeveen studied Communication and Multimedia Design at the Rotterdam University of Applied Sciences. During his time at the university he always found pleasure in combining interaction design with technological challenges. While doing an international internship at Vienna-based design studio Strukt, he wrote his thesis on the topic of using unstable media to reduce stress for autistic children in day care centres. He received both his Bachelor's and Honour's degrees in 2011.
His thesis resulted in a working prototype of a game built with the Microsoft Kinect peripheral and processing software environment. Using physical input and physical movements, children can chase, avoid or hit bubbles projected on a wall. These bubbles generate random sounds through a MIDI interface resulting in a calming, soothing audiovisual landscape. Jan is currently working as the lead interaction designer at freelance designer collective wedesigngood. Jan is looking for new challenges as a media artist where he can work on projects relating to ubiquitous computing and/or (real-time) generative design, be it national or international.
BA with honours in Communication and Multimedia Design, Rotterdam University of Applied Sciences
International internship at Vienna-based design studio Strukt
Bulla, his graduation prototype of a stress-reducing game for autistic children
Job van der Zwan
website: www.jobleonard.nl
ART WITH SCIENTIFIC INSIGHTS, OFTEN RESULTING IN IDEAS AND AESTHETICS SIMILAR TO ROMANTICISM, ODDLY ENOUGH.
Originally a physics student who never thought of becoming an artist, Job Leonard van der Zwan was and still is very passionate about science. However, his mind wasn't compatible with the scientific rigour required for a researcher, so he took a gamble and switched to studying art at the Minerva Academy, hoping to find an outlet for his love of scientific insights there.
The years as an art student were mostly a struggle to reconcile his scientific moral values with those of the art world he now resided in. These are often very different, even though at their core both are about paying careful attention to whatever grabs our attention.
For his graduation project he dove into the fields of philosophy, neuropsychology and their intersection, neurophilosophy, in an attempt to find a way to bridge the differences between them.
Based on the scientific theories he read on language acquisition, learning, and how the sort of attention we give to the world shapes our thoughts before the thoughts themselves are even formed, he somehow ended up creating a film installation that can best be described as meditative, moving Impressionist paintings.
Rajiv Krijnen
website: www.rajivkrijnen.nl
COMBINING TECHNOLOGICAL CURIOSITY WITH THE BLESSED CURSE OF ALWAYS THINKING OUTSIDE THE BOX.
Recently graduated from the Utrecht School of the Arts, Rajiv Krijnen is now taking on projects as a freelancer, designing physical and story-driven games for public events. Rajiv experimented as much as possible during his studies, investigating all the crazy ideas he came up with. At the same time he pursued his interest in programming and spent much of his free time learning different programming languages. Combined with his interest in concept design, this became his speciality in the field.
His graduation project Mindspace places the player in the mind of their character. With the character being trapped in his own mind, the player has to manipulate the world by handling a 'transvirtual' object. This object, a wooden cube, exists in the virtual as well as in the physical world, thus creating a way for the player to directly manipulate the virtual space.
By doing this, the player can access hidden and blocked memories, eventually freeing his character. Rajiv is working on a real-life adventure game for Night of the Nerds and is busy setting up his own business that will revolutionise the way we manage large quantities of information on the Internet.
Sound Academy Hilversum
BA in Design for Virtual Theatre and Games, Utrecht School of the Arts
Internship at Waag Society, where he worked on the urban adventure game Gold Rush
Tim Kurvers
website: www.moonsphere.net
RECENTLY GRADUATED ALL-ROUND GAME- AND WEB DEVELOPER, PASSIONATE ABOUT ANYTHING REMOTELY RESEMBLING CODE.
Tim Kurvers recently obtained his Bachelor's Degree in Communication and Multimedia Design from Avans University of Applied Sciences. While attending the course, Tim developed a speciality for creative technology, ranging from chip-programming and interactive installations to web applications and serious games. His graduation project was about pervasive gaming, blending the gaming world with our reality. In the resulting prototype, visitors could actually have a phone conversation with a fictional game character.
His work at two Dutch professional web- and gaming companies – Softmedia Interactive and RANJ Serious Games – paved the way for his next endeavour: emigrating to Norway to work with Oslo-based Hyper Interaktiv, a digital agency that combines pedagogical experience with communication and technology skills. Having worked on a variety of private projects over the years, Tim feels it is time to give something back to the community in the form of opensourcing. Tim believes in sharing and also that having his work in the public domain is a great motivator to actually finishing projects with the highest possible standards.
BA in Communication and Multimedia Design, Avans University of Applied Sciences
Graduation internship at RANJ Serious Games, redesigned the website for the multiple award-winning game Sharkworld
Biogame, farm-management game: live as a biological farmer and compete with your neighbours
Yoeran Luteijn
website: yoeran.com
I TEACH COMPUTERS HOW TO INTERACT WITH PEOPLE.
Yoeran Luteijn is a self-employed communication and multimedia designer. He runs his own freelance business developing web apps, research tools, code-generated graphics and interactive installations. Yoeran graduated from the Rotterdam University of Applied Sciences with a Bachelor's Degree in Communication and Multimedia Design and a minor in Experience Branding. For his graduation project he researched how physical computing can be applied to create a richer brand experience. For this Yoeran developed a model called Branded Interactions.
In the past Yoeran has worked on projects such as the User Environment Creator. To gain more insights into how people experience Rotterdam's city library he developed a creative research tool in collaboration with fellow students. The tool provides library visitors with the ability to design their own library and give context to each item in it. Yoeran is currently working on an interactive installation for Lowlands 2011. He is also part of the experience team for TEDxYouth@Amsterdam 2011 and TEDxAmsterdam 2011. In addition Yoeran is working on a brainstorm/mindmap tool, which will run on the web and various devices such as the iPad, iPhone and Android.
BA (Honours) in Communication and Multimedia Design with a minor in Experience Branding, Rotterdam University of Applied Sciences
Graduation internship at Contain.r
Ping-pong is Yoeran's favourite mind game
USABILITY DESIGN
Arthur Hulsman
website: www.studiostomp.nl
INTERACTION DESIGNER/FRONT-END DEVELOPER, SURFER.
Arthur Hulsman used his passion for water surfing to set up a website for the Charity programme Soul Surf Project Bali. The charity aims to create opportunities for young surfers in Bali and help young underprivileged Balinese children find work in the local surfing scene. Surfing is seen as a natural way to create awareness of the local environment. Arthur developed the website www.soulsurfprojectbali.com and wrote the E-marketing plan to stimulate the online branding of the charity and develop the diversity of online presences.
Arthur graduated with a Bachelor's Degree in Multimedia Design from The Hague University of Applied Sciences in 2010. He now works for the creative online development company Studio Stomp in Amsterdam. Arthur is responsible for the interaction designs and coding of new projects. In his job he focuses on responsive websites that are well thought through. He will start writing his book Holographic Responsive UI Patterns in the near future.
BA in Multimedia Design, The Hague University of Applied Sciences
Works at Studio Stomp, creative online development company
David Berghuijs
website: www.davidberghuijs.nl
HELPING PEOPLE SEE, THINK, UNDERSTAND, INTERACT WITH/EXPERIENCE HIS CREATIONS.
David Berghuijs studied Communication and Multimedia Design and specialises in user experience design. For his final year internship he developed a new branding strategy for a Dutch jewellery company. The company was extremely pleased with his findings and advice and asked him to realise his proposed changes to the brand. His work for the company also resulted in a very good grade and the examinations committee called him a ´true communication and multimedia designer'.
David is a freelance creative communication and multimedia designer and photographer. He has a passion for fashion and beauty photography, and takes pleasure in the creative atmosphere a team of people bring to a shoot. He enjoys being involved in projects from start to finish.
Working as a freelancer provides him with the freedom to do this. He works for various clients and has also set up an online marketing project. He is planning to build an online community to offer people who suffer from MS (Multiple Scleroses) a place to interact, share and help others cope with this terrible disease.
BA in Communication and Multimedia Design, The Hague University of Applied Sciences
Fashion and beauty photographer
Gaby Eenschoten
website: www.lucians.nl
WEBSITE OPTIMISATION & ADVICE, COORDINATION AND REALISATION OF CROSSMEDIA PROJECTS
Gaby Eenschoten started her own business 'Lucians|Express 2 Impress' immediately after graduating from The Hague University of Applied Sciences with a Bachelor's Degree in Communication and Multimedia Design. The company advises small and medium-sized businesses and focuses on online and offline communication. Gaby is involved in the creation and realisation of a community platform for the self-employed in cooperation with the Chamber of Commerce and Hillegersberg-Schiebroek district in Rotterdam. The platform needs to be designed, built and tested and will be online by the end of 2011. A marketing and communications plan is being written to attract the attention of local companies and the self-employed in the area.
For her graduation project she designed a digital message board that offers social and digital help for the elderly. The aim of the message board was to design easy-to-use apps that instil the elderly with the confidence to live on their own and helps them keep in touch with the outside world. In her spare time, Gaby created an online platform with all sorts of children's activities in her neighbourhood. She aims to create to an online community for kids, their parents and grandparents.
BA in Communication and Multimedia Design, The Hague University of Applied Sciences
Owner of the Company Lucians|Express 2 Impress
Community project www.speleninhillegersberg.nl
Community platform for the self-employed in Hillegersberg-Schiebroek district, Rotterdam.
Hilde de Wit
website: www.hilde.in
DESIGNING NEW, CRAZY AND FUN POSSIBILITIES THAT CHALLENGE TARGET AUDIENCES WITH THINGS THEY NEVER THOUGHT THEY WOULD SEE!
Hilde de Wit works at the Accessibility Foundation as an Interaction Designer. With new technologies, and devices like the iPhone, the foundation creates new opportunities for disabled people. Hilde always tries to let the results of user-research drive the decisions during the design process. By using various media such as mobile applications, Augmented Reality, websites and hardware she tries to find creative solutions for a specific target audience.
Hilde graduated with a Bachelor's Degree in Interaction Design and a Master of Arts Degree in Creative Design for Digital Cultures at Utrecht School of the Arts. For her gradation project she designed the application Vinni for people with a cognitive disability. Cognitively disabled people can use Vinni on their iPod Touch to take pictures of their daily activities and express their feelings through the use of emoticons. She was amazed when she saw that these people could do things they thought were not possible!
MA in Creative Design for Digital Cultures, Utrecht School of the Arts
BA in Interaction Design, Utrecht School of the Arts
Inge Nahuis
website: www.ingenahuis.nl
LOVES TO COMBINE THEORY, DESIGN AND TECHNOLOGY TO CREATE USER-FRIENDLY AND INTUITIVE INTERNET APPLICATIONS.
Inge Nahuis recently graduated as a Communication and Multimedia Designer from HAN University of Applied Sciences in Arnhem. During her studies she learned a great deal about creating interactive Internet applications and developed a passion for user-centered design. She currently works at Lijnrecht, a company that creates original and effective marketing campaigns for all kinds of businesses. Her work involves website design. Inge will continue her education by following a Master's course in New Media at Twente University.
During her internship she worked on a project called Tijd voor Mij. This is a personal lifestyle book that is completely adjusted to the lifestyle of a person. Inge designed the brand, the layout of the book and the website. In order to do this, she took a closer look at how to optimise conversion rates and how to promote the unique selling points. In the future Inge hopes to work in a multidisciplinary field that brings the benefits of different new media together when she designs websites and marketing campaigns.
BA in Communication and Multimedia Design, HAN University of Applied
Graduation project: www.tijdvoormij.nl. A website that encourages improvements to lifestyles through lifestyle scans
Jasper Hovenga
website: www.jasperhovenga.nl
DESIGNER WITH A SENSE OF USER EXPERIENCE. LOVES NEW MEDIA, SOCIAL MEDIA AND DESIGNING.
Jasper Hovenga studied Communication and Multimedia Design at the HAN University of Applied Sciences. His specialties are graphics, usability design and organisation. During his graduation year, Jasper made three short movies for LEF, the future centre at Rijkswaterstaat. The movies Jasper made are priming topics such collaboration and trust. The movies are used to prime participants at the LEF sessions, which help to produce an unforgettable experience for focus groups. After been primed, the participants will work together and trust each other more than before. Later, they will recall the feeling this experience produced and will use it in the sessions.
During his internship at the Netherlands' Cadastre, Jasper and a classmate made a demo-application to help facilitate the process of re-parcelling. They made a working prototype for the Microsoft Surface Table and tested its usability. Jasper is currently working as a freelancer at Vinom Media, a small Internet firm whose core business it is generating targeted Twitter followers for companies and individuals. Jasper is also in the process of starting his own firm and is looking forward to watching it grow beyond his wildest expectations.
BA in Communication and Multimedia Design, HAN University of Applied Sciences
Demo version of the re-parcelling application
Jeffrey Braun
website: www.jeffreybraun.nl
Helping define what and how we should be creating for people. The output isn't necessarily a design or tangible product.
Jeffrey Braun is an Industrial Designer with a Master of Science Degree in Industrial Design from Eindhoven University of Technology. For Jeffrey, designing is a medium to positively transform our everyday world, to create a better place to live in and to provoke discussion. By envisioning, proposing and creating new intelligent products, systems and services, Jeffrey believes that we are able to improve the way users interact with their environment.
His graduation project Morphing Interaction examined possible future scenarios of interaction design. For this project Jeffrey envisioned a future where nanotechnology and shape-shifting objects become ubiquitous and blend in with our everyday physical environment. Jeffrey´s graduation project was about the suggestive power of design, of how, one day 'it could be'. It encourages designers and users to imagine the impact of the way they live their lives.
MSc in Industrial Design, Eindhoven University of Technology
Bachelor Exchange Programme at Budapest University of Technology and Economics
Anja Schenkels
website: linkedin.com/in/anjaschenkels
CREATIVE INTERNET AND MULTIMEDIA EXPERT WHO LOVES TO WRITE.
Quote: ´´I had never expected that I would be nominated for the HOT100. The number of talented people within the creative industry is huge; therefore, I am grateful that I have the opportunity to display my work. I'm looking forward to meeting lots of talented colleagues.´´
After the completion of her Bachelor degree in Journalism, Anja Schenkels wanted to explore her creative side and went on to study another degree in Communication and Multimedia Design. The combination of the two degrees has proven to be a fruitful choice as the role of the internet is growing and has equipped her with skills she can use in the online and offline media.
Anja Schenkels currently works at a sports and recreation area in the South of Eindhoven called Genneper Parken. She manages the central website and the websites of the three biggest accommodation units. Anja also gives the other nine accommodation units advice about their online marketing and communication strategies. She is responsible for the development of the central website and the creation of a strategic internet and multimedia plan for the various accommodation units at Genneper Parken, of which the internet now plays a key part.
BA in Journalism, Fontys University of Applied Sciences
BA in Communication and Multimedia Design, The Hague University of Applied Sciences
Writer/editor for the web and for various articles in magazines/newspapers such as Plug Out, Yes, Eindhovens Dagblad
Share