Kennis /
Meet the HOT100 2011 pt. 1: Transmedia, Games, Mobile, Experience Design, Animation, Branding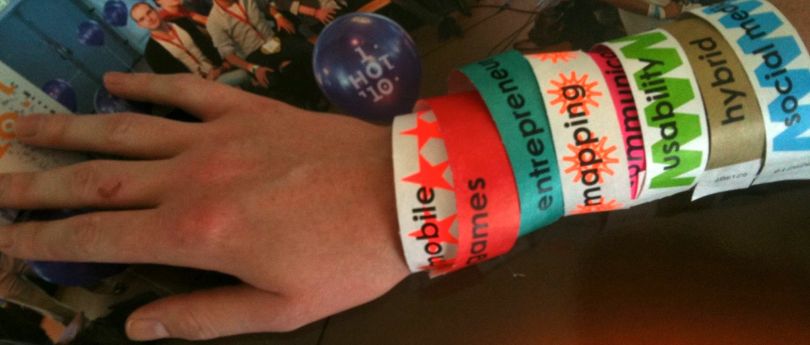 — Maak kennis met de HOT100 2011 talenten op het gebied van media, kunst en technologie.
Here you can find all HOT100 2011 talents tagged with Animation, Branding, Crowding, Experience Design, Games, Mobile and Transmedia.
ANIMATION
Sebastian Schneider
website: www.sschneider.info
LET´S MAKE SOME KEY FRAMES!
Sebastian Schneider is a Cross Media Designer from Germany. He is currently based in Enschede in the Netherlands where he graduated with a Bachelor's Degree in Art and Cross Media Design from the ArtEZ Institute of the Arts. Sebastian´s work incoporates different kinds of media, but he is passionate about interactive design and animation using Photoshop, Illustrator, After Effects and Cinema 4D.
As an intern at HollandCentraal, a concept and motion graphic design company, Sebastian was tasked with creating animations in After Effect and Cinema 4D. He edited, encoded and performed all the necessary technical changes to existing designs. The internship equipped him with the hands-on experience he needed to continue developing his own projects. For his final course project Sebastian designed the programme A Comment On Current Topics for the CCT News TV channel. This provided him with the opportunity to state his own opinions on current topics about the moving image and the different techniques used to create them.
BA in Art and Cross Media Design, ArtEZ Institure for the Arts
Internship at motion graphic design company HollandCentraal
BRANDING
Bas van de Poel (& Daan van Dam)
website: www.wonderyears.nl
WE MAKE STUFF.
Bas van de Poel and Daan van Dam study Advertising at the Willem de Kooning Academy in Rotterdam. They work together as a creative team and partnered up to become Wonder Years. They both share a passion for the unknown, the different and in the weekend they like to ´kick back with a few good sci-fi novels and 70s porn flicks´. They trained at different agencies like Achtung!, JWT New York, DDB and Boondoggle.
Currently Bas and Daan are redefining the word 'sleep' at Crispin Porter + Bogusky, www.cpbgroup.com. CP+B is a factory. A factory that makes advertising, interactive, branded content and products. There is no assembly line. All the work is custom-designed and assembled by hand. They are quirky team and have, for exBample, landed a job via Twitter at a leading advertising agency. Another project of theirs is Become a Legend – an 'interactive' T-shirt, which united Dutch football fans with the national football team during the 2010 Fifa World Cup.
Advertising Studies at the Willem de Kooning Academy, Rotterdam
Advertising Exchange Programme, School of Visual Arts New York
BA in International Communication Management, INHOLLAND University of Applied Sciences
Co-founder Wonder Years (see Daan van Dam)
Inge Maassen
website: mrswhite.nl
FREELANCE WEB & GRAPHIC DESIGNER WITH A FOCUS ON MAKING USER FRIENDLY WEBSITES.
Inge Maassen has a Bachelor Degree in Communication and Multimedia Design from HAN University of Applied Sciences. During her studies Inge completed a six-month internship at the advertising agency Taketwo. She did her final internship with an internet marketing company, where she explored the subject of website optimisation by using split testing. Split testing is a way to increase conversion rates on websites and landing pages.
You create one or more variations of a landing page and then randomly split traffic among them. Meanwhile you measure which variation leads to maximum conversion for the result that you are looking for. By using split testing Inge was able to improve the user interface and design of the company´s website.
Inge Maassen is currently working as freelance graphic -and web designer working for various clients. She is the owner of Mrs. White specialised in designing user-friendly websites. Mrs. White also specialises in branding and designs logo´s, flyers, illustrations, and booklets. Inge combines her technical expertise with her creative flair for design and makes this into user friendly websites and logos.
BA in Communication and Multimedia Design, HAN University of Applied Sciences
Owner of Mrs White
Daan van Dam (& Bas van de Poel)
website: www.wonderyears.nl
WE MAKE STUFF.
Daan van Dam always works together as a creative team with Bas van de Poel. They both study Advertising at the Willem de Kooning Academy in Rotterdam and pool their skills and experience in Wonder Years in Amsterdam. They share a passion for the unknown, the different and during the weekends they like to ´kick back with a few good sci-fi novels and seventies porn flicks´. They have trained at different agencies such as Achtung!, JWT New York, DDB and Boondoggle.
Currently Daan and Bas are redefining the word 'sleep' at Crispin Porter + Bogusky, www.cpbgroup.com. CP+B is a factory that makes advertising, interactive, branded content, and products. There is no assembly line. All the work is custom-designed and assembled by hand. They are quirky team and have, for example, landed a job via Twitter at a leading advertising agency. Another project of theirs is Become a Legend – an 'interactive' T-shirt, which united Dutch football fans with the national football team during the 2010 Fifa World Cup.
Advertising Studies at the Willem de Kooning Academy, Rotterdam
Advertising Exchange Programme, School of Visual Arts New York
Graphic Design at Graphic Lyceum, Amsterdam
Co-founder of Wonder Years (see Bas van de Poel)
Kelly van der Toorn
website: www.kellyvandertoorn.nl
SOCIAL MEDIA GEEK AND BLOGGER. PLAYFUL: GENUINE CONTENT VERSUS COMMERCIAL GOALS. CREATIVE CONCEPT DEVELOPER.
The students at the ICT and Media Department of The Hague University of Applied Sciences might not realise when they relax on the sofa in the department's study area department they are sitting on one of Kelly van der Toorn's successful designs. As a member of the student union's marketing commission she developed a new house style. Kelly designed video icons, poster formats, a new website and stickers. The designs were such a success that Kelly was asked to create a print for the sofa.
Kelly van der Toorn recently graduated with a Bachelor's Degree in Communication and Multimedia Design from The Hague University of Applied Sciences. In her final year she worked as an intern for the recruitment agency RAVE-cruitment. She re-designed their corporate website and incorporated social media instead of merely adding a Facebook, Twitter or LinkedIn icon. The new design was based on a survey she did among IT professionals. To analyse the 750 responses she followed a three-day course at Qlikview. Qlikview is a new ´hot and happening´ business intelligence tool. The new RAVE-cruitment site can be viewed online.
BA in ICT and Media, The Hague University of Applied Sciences
Research blog about the use of social media
Natalia Sanchez Querubin
MEDIA RESEARCHER. COMMUNICATION, EMOTIONS, BODY AND TECHNOLOGY.
Natalia Sanchez Querubin is a media researcher. Parallel to her academic work, she currently collaborates with Unfold Amsterdam on promoting partnerships between Unfold and similar projects and companies that have shared goals. Natalia has a background in Literature and Art and was awarded her Master's Degree in Media Studies by the University of Amsterdam. Natalia is especially interested in the intersections between emotions, corporeality and technology. Her graduation dissertation explored the visual and technological strategies that are used to communicate physical suffering in spaces such as video games, advertisements and body performances, and the potential for pain to create unique relational structures between individuals.
Natalia belongs to the research collective A.I.M (Adventures in Multimodality), which studies genres that often combine more than one modality, such as comics or advertisements. She shares administrative responsibilities for the A.I.M blog with Prof. Charles Forceville. She has collaborated with the Digital Methods Initiative, which investigates methodology, authority and value pertaining to natively digital structures and data. During this collaboration she developed a project about search engines and their criteria to define language and national spheres. She is also experimenting with colour-coded data patterns and drawing.
MA Media Studies, University of Amsterdam
Worked in Colombia as a producer and scriptwriter for the documentary Thus the Count Boy Sang at the Seashore (2009)
Coordinator and curatorial assistant for the Cartas de la Persistencia project: http://www.lablaa.org/cartas-de-la-persistencia
Rogér Verscheijden
website: www.verscheijden.nl
CLOSING THE GAP BETWEEN PEOPLE AND THEIR TECHNOLOGY.
Rogér Verscheijden has always had a passion for technology, and his attraction to pretty much anything that bleeps or blinks became more serious during his studies when he learned about humans and the way they interact with technology. Rogér is interested in the way people think, the choices they make and the things that motivate them. He always immerses himself in the issues he researches, then he takes a step back and tries to find a solution in not only his own, but also other disciplines.
Rogér's projects often introduce new ways to use technology to extend humans. For example, his graduation project Totem is an experimental interactive installation based on the way the human brain stores memories. The interactions between lots of people are recorded with a camera and microphone. A piece of code then uses a smart algorithm to filter specific data from these interactions and translates it to a unique pattern. Fifteen pumps drop coloured ink onto different areas of a canvas and five servo motors below the canvas lift certain parts of the fabric to make the ink flow in different directions, producing a painting that represents the interaction that has just taken place.
BA in Communication and Multimedia Design, Avans Hogeschool, University of Applied sciences
Co-founder of Bureau Semafoor, identity development and interactive applications
CROWDING
Laurens Profittlich
website: www.teletekstisdood.com
CONNECTING GOOD, LOVING PEOPLE TO SPECIAL MOMENTS BY COMBINING EMOTIONAL NEEDS WITH TECHNICAL DEVELOPMENT.
Laurens Profittlich is studying Informatics at The Hague University of Applied Sciences. He is always on the lookout for interesting and unexplored challenges in the area where sociology and technology meet. Though he is technically still a student, Laurens has already proved himself in the real world where things are changing faster and faster. He has worked as a freelancer under the name Profikid for over three years, for clients such as TodaysArt Festival.
Laurens is the co-founder of Teletekst is dood (TiD), a transdisciplinary collective from The Hague that represents a new generation. Teletekst is dood creates and designs projects about social topics and developments through art, media, technology and interaction. He also works as programming and marketing director at Langweiligkeit, a hippy-driven foundation that has their own record label, club, festival, agency, and a growing worldwide network of engaged friends and artists.
BA in Informatics (expected), The Hague University of Applied Sciences
Internship at Automatique
Co-founder transdisciplinary collective Teletekst is dood, The Hague
Initiator Mindfuckmondays, a platform for young musical talent, The Hague
Roland Pastoor
website: www.rolandpastoor.nl
I GATHER RICH, AUTHENTIC INFORMATION TO BE USED AS INSIGHTS AND INSPIRATION FOR HUMAN-CENTRED DEVELOPERS.
Roland Pastoor graduated with honours from Rotterdam University of Applied Sciences. His graduation project was about improving the accessibility of automated data-harvesting tools for human-centred designers during the research phase of the design process. Roland and others will use the knowledge gained during this project to further develop the field of creative research.
Roland has worked on projects for Rotterdam Library, TEDx, Poken and various other big brands and companies. In his spare time Roland experiments with combining his passion for photography with his regular work to create unique projects. Roland's ambitions are to create a successful business around the concepts of creative research. Offering services and consultancy to businesses and organisations for finding design inspiration by using rich authentic data during the fuzzy front-end phase. In addition, Roland will focus on advancing creative research as a new, valuable and exciting addition to the research landscape.
BA Communication and Multimedia Design, Rotterdam University of Applied Sciences
Works for Lectoraat Human-Centered ICT
EXPERIENCE DESIGN
Bastiaan Ekeler
website: www.ekeler.com
EXPLORING THE EMPOWERMENT OF PEOPLE THROUGH NEW TECHNOLOGIES.
When I get older,
losing my hair,
many years from now,
will you still be sending me a Valentine, birthday greetings bottle of wine?
Bastiaan Ekeler's work focuses on the use of technology to enrich people's lives. He wants to bring a little more joy to the world by offering people new ways of using and experiencing technology, so they can explore the world around them and have fun.
Bastiaan Ekeler has a Bachelor's Degree in Industrial Design from Eindhoven University of Technology. For his final year graduation project he examines how evolutionary principles could be applied to the personalisation of musical instruments.
By using genetic algorithms and user-centred fitness selection he aims to create an instrument that co-evolves with its musician. For this project he is useing 3D printing to capture his love of music as well as a musician's love for making music to allow for a greater richness in the expression their creativity.
BSc in Industrial Design, Eindhoven University of Technology
Darija Medić
website: protopage.com
PUBLIC AND MEDIA INTERVENTIONIST INTERESTED IN THE PERVASIVE LANGUAGE AND KNOWLEDGE OF PRODUCTION.
Darija Medić holds a Master's Degree in Media Design and Communication from the Piet Zwart Institute, which is part of Rotterdam University of Applied Sciences. She has a Bachelor's Degree in New Media from The Academy of Arts, in Novi Sad, Serbia. In her studies she worked both vocational and academic with video, photography, cultural theory and intermediary research. She has collaborated with artist initiatives and projects such as karasssuite.net, OKNO, autonopop.net and De Player. Her work has been exhibited at festivals like BJCEM, MEMEFEST (International Festival of Radical Communication), Hacker Space Festival, and the Viral Communications conference in Rotterdam.
Her graduation project Attention: recalculating! is a series of modifications of an open source GPS navigation software that offers customised ways of taking longer routes through speculative scenarios. It is an attempt to crack open a black box such as the TomTom device to expose the physical intentions that exist behind and around all technological objects. The project explores how the gap between code and human language offers endless possibilities for interpretation, speculation and manipulation. The software can be installed on other platforms such as Garmin, Navman and Android phones.
MA in Media Design and Communication, Piet Zwart Instituut at the Willem de Kooning Academy, University of Applied Sciences Rotterdam
BA in New Media from The Academy of Arts in Novi Sad, Serbia
Emina Sendijarevic
website: nl.linkedin.com/pub/emina-sendijarevic
RESEARCH IS POWER, CREATIVITY IS KEY.
Emina Sendijarevic recently completed her Master's Degree in New Media at the University of Amsterdam and is now working on the publication of her paper Neutral or National Point of View, in which she deploys Wikipedia's language versions as a cultural reference to analyse the 'national' version of events in articles about the Srebrenica genocide.
During her undergraduate course in Communication Science, she became intrigued by the power of (new) media. Emina participated in an exchange programme and studied at Universidad Autonoma de Barcelona for the final year of her bachelor degree.
She focused on visual narratives, cultural analysis and creative strategy.
After graduating with a Bachelor's Degree in Communication Science she worked as a junior webmaster for Mediamatic Foundation and Lab, fostering community formation and participation within Mediamatic.
MA in New Media, University of Amsterdam
'Neutral or National Point of View' paper, forthcoming 2011
BA in Communication Science, the University of Amsterdam
Femke van Drooge
website: www.femkevandrooge.nl
1. DESIGNS BEHAVIOUR. 2. CREATES INNOVATIVE INTERACTIVE PRODUCTS THAT INFLUENCE THAT BEHAVIOUR.
Femke van Drooge has a Master's Degree in Interaction Design from the Utrecht School of the Arts. She has recently started a company with Joep Slenter. They intend to design and develop a range of products: an interactive floor, web applications, and apps for mobile devices such as the iPhone and iPad. The main goal of each design is the same: create innovative products that engage people with a purpose and trigger the imagination!
Femke van Drooge sees design as something that should always be approached from the behavioural point of view. Her design method is based on finding out what motivates people and making sure that this motivation is an integral part of her design. Her favourite design areas are education and healthcare; her speciality lies in good user research and usability testing. During her studies Femke was selected for a master class at Designskolen Kolding in Denmark, where she could learn from designers from the well-known company IDEO. Femke designed a flight simulator for handicapped children called Hospital in the Clouds, and Vinni, an application for people with a cognitive disability, for the iPod Touch and, for their caretakers, the iPad.
MA in Interaction Design, Utrecht School of the Arts
Hospital in the Clouds (2009), a flight simulator for wheelchair-bound children. The main purpose of this interactive installation is to provide these handicapped children, with the sense of freedom through flying. It was designed with the waiting rooms of the Wilhelmina Children's' Hospital in Utrecht in mind.
Jeroen Peeters
website: www.jeroenpeeters.com
INTERDISCIPLINARY DESIGNER EXPLORING AESTHETIC INTERACTIONS AND EXPERIENCES IN DESIGN FROM A CONCEPTUAL POINT OF VIEW.
In 2007, Jeroen Peeters attended the School of Architecture and Design at the Royal Melbourne Institute of Technology in Australia, where he gained experience about cross-disciplinary design practices, design writing and the social and cultural implications of design. After that, Jeroen studied Industrial Design at the Eindhoven University of Technology, focusing on the integration of technology in the design of highly interactive and intelligent products and systems. Jeroen believes that contemporary design needs to transcend traditional aesthetics of form and functionalism. Technology provides opportunities to design for rich, aesthetic experiences that are released in interactions. Specifically, he is interested in making an experience aesthetically interesting in an intellectual sense, in addition to its sensed form.
This approach was implemented in a lighting design that communicates the train traffic within the Dutch railway network. The design finds a new balance between quality of information and aesthetics by implicating, rather than explicitly stating, information, and by requiring travellers to interpret the presented information for themselves (http://vimeo.com/18894747). In the near future, Jeroen will be further exploring the opportunities for aesthetic intellectual experiences in interactive products.
BA and MA in Industrial Design, Eindhoven University of Technology (2009, 2011)
School of Architecture and Design at the Royal Melbourne Institute of Technology in Australia (2007)
Juul Barnard
website: www.juulbarnard.nl
CONCEPTUAL DESIGNER WHO LIKES TO EXPERIMENT WITH DIFFERENT MATERIALS AND TECHNIQUES IN THE SECOND AND THIRD DIMENSION.
Juul Barnard studied Interior Architecture at the Willem de Kooning Academy in Rotterdam. His graduation project utilises the Rotterdam City Harbours. The water in these harbours shows a strong vertical movement because of the tide: the water varies by nearly 1.7 metres. By placing an industrial-looking metal pod on the bottom of the harbour, Juul created an exciting hotel room which disappears twice a day with the coming of the tide. His project, BLINKY, emerged from extensive research into the manipulation of the subconscious mind. Realising that the general public is being manipulated by means of sensory marketing, Juul build a huge interactive figure that emits subliminal messages to influence emotion in a positive way. Both projects were nominated for the Drempelprijs Vormgeving 2011.
As an independent designer and interior architect, Juul Barnard has realised projects for different designers, varying from small-scale models to full-scale 1:1 designs. He likes to collaborate with other designers, mix different disciplines, and building and constructing with all kinds of materials. Over time he developed his own clear signature through humorous concepts, visualised by his hand-drawn illustrations, resulting in autonomous and monumental designs.
Graduated as an Interior Architect from the Willem de Kooning Academy
Exhibited at the Milan Design Week, 100% Design Rotterdam, and attended a workshop at Tongji University, Shanghai
Internship at Doepel Strijkers Architects
Moth Light: Light concept for That's Design exhibition in Milan (http://www.juulbarnard.nl/portfolio/design/moth)
Lena van der Wal
website: www.lenavanderwal.com
CREATES NEW EXPERIENCES OF OUR EVERYDAY WORLD BY CROSSING BOUNDARIES AND MIXING UP ELEMENTS.
Lena van der Wal recently graduated from Minerva Academy in Groningen. Lena observes the world in a playful way. She finds seemingly opposing elements from our daily life and melts them together in an object or a series of objects, combining her practice as a fine artist with the practice of a designer. She uses humour and contradiction to question the meaning of functionality when placed back in the context of nature and evolution.
For her graduation project, Lena van der Wal merged the museum with a department store. In a showroom she presented her Inside Outside Interior. This collection of furniture – ranging from tableware to a planter – is made entirely of those materials that are used to construct a house that become invisible once the house is ready to decorate: insulation material, styrofoam, underlayment wood, concrete, radiator foil and so on. Even the little strings that hold the price tags were made from masonry strings. Lena is self-employed and reveals beauty in places where we don't expect it, while implementing a Robinson Crusoe-esque way of living in our present time.
BA in Fine Arts, Minerva Academy in Groningen, spent a semester in New York
Luxury Survival Guide: an instruction manual on 'how to survive in luxury'
Period Pad Games: a stamp set for your period pad that hopefully makes having your period more fun
Peter van der Werve
website: www.petervdwerve.nl
CRITICAL OLD AND NEW MEDIA DESIGNER.
Peter van der Werve graduated from the Graphic Lyceum Rotterdam in 2007, with a degree in Digital Media Design. He went on to study Interactive Multimedia at the Willem de Koning Academy in Rotterdam and graduated in 2011. Peter's work focuses on combining analogue and digital media. His main activities consist of installations and interactive video works. If you had to describe Peter's work in one sentence it would be: 'Interactivity and electronics combined with a healthy dose of critical humour'.
Peter completed several graduation projects, including doorCam, a webcam that is embedded in your front door. When someone rings your doorbell, it creates a short video that is automatically e-mailed to your Smartphone, notifying you of the visitor. His main graduation project is irProjector, an installation that creates projections with infrared light that are invisible to the human eye. These projections are pointed at the field of view of CCTV cameras in the city of Rotterdam. The project aims to create an awareness of privacy amongst the security guards monitoring these cameras by means of projected images and texts such as "Error 404: Privacy not found".
BA in Interactive Multimedia, Willem de Kooning Academy
Degree in Digital Media Design, Graphic Lyceum Rotterdam
Philip Man
website: www.philipman.net
CREATING MEANINGFUL EXPERIENCES AND VALUABLE RELATIONS BY UNDERSTANDING BEHAVIOUR, NOT TECHNOLOGY.
As a new media researcher Philip Man is interested in combining knowledge from a variety of fields. In his MA thesis, he explores the upcoming gamification and how it dehumanises our approaches to social networking. Philip argues that Facebook is becoming a social game of prominence and reveals its inadequacies in being the ultimate online social tool because there is a large discrepancy between the offline social and the online social.
Philip has worked at Randstad Employment Agency where he experimented with QR codes to create bridges between the offline and the online. As the production manager he was involved in the initial research, the marketing, the roll out, until the final evaluation of the project. At the moment, Philip is working on a start-up, which he and his team hopes will connect unrelated people using their locations and interests. Their goal is not that these encounters eventually develop into a valuable relationship – although that would be a wonderful side effect – but that people have a stronger connection with places because they become more social. Identities shift from IP-addresses to GPS-coordinates.
MA in New Media, University of Amsterdam
BSc in Béta-Gamma, University of Amsterdam
Worked on the data visualisation project Mapsterdam as part of his Master's programme
Project manager at the Expert Centre for Journalism
Sammy de Keijne
website: www.sdekeijne.com
CREATING BEAUTIFUL NEW MEDIA CONCEPTS.
Sammy de Keijne studied Communication & Multimedia Design at the Rotterdam University of Applied Sciences, specialising in Experience Branding. For her graduation she focused on the topic 'Life-like Design in the life of chronically ill patients'. Life-like Design is a relatively new method revolving around the integration of social patterns (like facial expressions or conversation dynamics) into the design of a product, thereby increasing its likeability and usability. Her research project has resulted in a mobile application that provides MS patients with an easy and accessible way to share their emotional state with the people they care about.
Sammy has worked on broad variety of projects and services, ranging from conceptual work such as branding and concepting to more hands-on work for interactive installations. For the TEDxYouth Amsterdam event in 2010, for instance, she collaborated with fellow students to develop a concept for the entrance experience. This resulted in an installation where visitors to the event could build their own interactive TEDxYouth logo. Currently Sammy is a freelance concept developer and designer of new interactive media. Either way, Sammy always handles her projects with a proactive, positive and open-minded attitude, combining her leadership capabilities with a 'can do' mentality.
BA (Honours) in Communication & Multimedia Design, Rotterdam University of Applied sciences, specialised in Experience Branding
Internship at Fabrique, Delft
Twitter handle: @sdekeijne
Tim Bosje
website: www.timbosje.nl
SPICING UP REALITY WITH FICTION AND GAME-RULES FOR A MORE ENGAGING AND ADVENTUROUS EXPERIENCE.
Tim Bosje has designed many real-life games for large and diverse groups of players. These games took place in museums, on the street, at schools and festivals, in natural parks, office buildings and historical cities. Tim sees game design as an entertaining tool to make things more engaging. Many of his games are used for education, providing insights in group-dynamics and self-knowledge. The games take place in real-life, encourages different playing styles and are very light on the restrictive rules. This enables the players to be almost limitless in their creative problem solving.
During his final year at the Utrecht School of the Arts, Tim worked on a cross-media game, which makes the historical period of the Dutch revolution more tangible for students. He also designed an urban game that is played in an old fortified city and revolves around treasure hunters who compete to uncover history. Tim also enjoys designing theatre games in which acting is a big component. One of these games – about ghost hunting – is a tool for personal reflection and coping with negative thoughts.
MA in Game Design, Utrecht School of the Arts
BA in Built Environment, Utrecht University of Applied Sciences
GAME
Jaimie van Kessel
CREATES AND DEVELOPS MEDIATED REALITY CONCEPTS AND INNOVATIVE (SERIOUS) GAMES.
Jaime van Kessel is a programmer with a passion for creating new ways to experience reality and games. Jaimie studied at the University of Applied Sciences Utrecht where he obtained an Engineering Bachelor's Degree in Media Technology. He specialised in Game Technology and Simulation, and created several games.
Jaime built a low budget Virtual Reality Cave from scratch for the 3DNL Platform, which stimulates 3D innovation in the Netherlands. After working for 3DNL, Jaime completed an internship at the mobile platform Layar, where he was involved in a project that allows users to create their own 'augmented space'. He now works for Layar as a prototyping research assistant. As part of the technical team he helps Layar take Augmented Reality to the next level.
BEng in Media Technology, University of Applied Sciences Utrecht
Internship at Upact: designing, developing and running a low-budget ARG to raise awareness for the state Congo
Works at Layar, a mobile platform for discovering information about the world
Javier Sancho
website: twitter.com/yojavisan
INDEPENDENT GAMES & NEW MEDIA FREELANCER: PRODUCER, CRITIC, RESEARCHER, VERSATILE, EXPLORER, GAMER, GEEK.
Javier Sancho has a Bachelor's Degree in Theatre, Film and Television Studies from the University of Utrecht. Javier also received an MA with distinction in New Media and Digital Culture from the same university. His MA dissertation, Exploring Computer Game Dramaturgy, promotes a cross-disciplinary approach that focuses on understanding creative choices and their relation to the dramaturgy of the game-play experience. Javier strives to bridge the gap between academic research into games and the creative practice of game design and development.
Javier currently works freelance as a game developer for GewGawGames, as a producer for SETUP and as a writer CJP Magazine. Javier first gained experience working for Nintendo and UTRAX. He then worked for Philips Research, developing the educational gaming platform TagTiles. As a producer at SETUP he now organises new media events that appeal to insiders as well as newcomers to gaming and media culture. GewGawGames won a prize with the game Bewbees at the Global Game Jam 2011. The game is still in development and he is working on making the product a successful enterprise.
MA with distinction in New Media and Digital Culture, University of Utrecht
BA in Theatre, Film and Television Studies, University of Utrecht
Lennart Hoting
website: www.lennarthoting.com
I USE EVERY SOURCE OF INSPIRATION TO CREATE NEW AND INNOVATIVE GAMING EXPERIENCES.
During his Game Design & Development studies at the Utrecht School of the Arts (HKU), Lennart Hoting specialised in Game Design. He created several entertainment games and has working experience as a freelance designer at Vanguard Games. Since Lennart often fulfilled the role of Lead Designer, he acquired a great deal of experience in creating designs for games and communicating with and leading a team. He also has experience in level design, interface design, balancing, enemy placement and working in game editors. His Bachelor's Degree in Fine Arts gives him an edge in idea generation and when it comes to identifying dangers and opportunities in a creative process.
To date, his work has involved creating a collection of entertainment and serious games. Lennart always strives to make a game entertaining, but this is often a problem with serious games because they focus on a different goal. With Onder Invloed (Under Influence), commissioned by Leiden University, he managed to create a design that combines the informational value with entertaining game play (www.onder-invloed.nl ). His graduation project Skizo Kid is a unique side-scrolling action platformer in which two players simultaneously control a boy with a split personality. With this game he created a new kind of co-operative experience.
BA in Game Design & Development, Utrecht School of the Arts
BA in Fine Arts, ArtEZ Institute of the Arts
Freelance designer at Vanguard Games
MOBILE
David van Toor
UNDERSTANDING EVER-CHANGING USER BEHAVIOUR & NEW MEDIA DESIGN BY PROVIDING INSIGHTS INTO THE APPLICATIONS.
After David van Toor finished his undergraduate course in Interactive Media at the University of Applied Sciences in Amsterdam, he worked for two years as a web editor for an online travel magazine AddMissions and for the Department of Waterways and Public Works (Rijkswaterstaat). To augment his practical experience with theory he decided to do a Master's course in New Media and Digital Culture at Utrecht University.
During his internship at the Institute for Sound and Vision in Hilversum he helped develop the Picture War Monuments mobile application. This iOS-based native iPhone application enriches a visit to the 200 most important war monuments in the Netherlands. It is an audiovisual heritage tour with on-site textual information that provides historical content in a meaningful context. His master's dissertation is about usability and user-experiences relating to digital cultural heritage and mobile applications for smartphones. The Picture War Monuments application is an integral part of the dissertation. He also became the co-author of a 'proceedings' selected paper about the project for the International Museums and the Web conference 2011, hosted in Philadelphia, US.
MA in New Media and Digital Culture, Utrecht University
BA in Interactive Media, The University of Applied Sciences Amsterdam
Two year's work experience as a web editor/content manager for AddMission and Rijkswaterstaat Corporate Service
Jan Helleman
website: www.janhelleman.nl
AN INNOVATIVE AND DYNAMIC ENTREPRENEUR OF MOBILE, GAMING & ADVERTISING PLATFORMS.
'I love history, travelling and exploring the world. Other cultures and history itself brings us new ideas and insights that we hadn't thought of before.'
Jan graduated from HAN University of Applied Sciences as a designer and completed an internship at the Dutch Embassy in Ottawa. Competent in website development and design he was tasked with researching the Canadian computer game industry. As part of his studies he took a module in 'entrepreneurship', during which he set up Gloweco. A Glow-E is a glow-in-the-dark clip that can be attached to the guy ropes of a tent so that they can be seen (and avoided!) in the dark. The product is sold in various camping stores in Holland and can be bought online.
Jan Helleman is a game designer and developer and currently makes applications and games for IOS and Android. He is in the process of setting up his own company to publish his ideas and provide other companies with the option of outsourcing mobile applications and game projects. Jan and his team won the Global Game Jam in Hilversum in 2007 by developing a game for the Dutch NOS news website. Jan also worked at eValue and was lead developer on e-Poc and e-sales.
BA in Communication and Multimedia Design, HAN University of Applied Sciences
Gloweco (glow in the dark product for tents)
Jidi Guo
ENDLESSLY IN SEARCH OF THAT ONE THING THAT CAN DO EVERYTHING AT THE SAME TIME.
Jidi Guo holds a Bachelor's Degree in Communication Science and a Master's in New Media from the University of Amsterdam. By combining a social science and humanities course she learned to conceptualise technology and quantitatively analyse behavioural and social impact. After an internship at Vandejong, a communication and design company, Jidi became interested in the culture and arts sector. The creative multidisciplinary process should embrace building a brand to strategic implementation. It was during her time at Vandejong that she also learned the importance of modern media and this led to her choice for a Master's Degree in New Media.
Jidi recently discovered her passion for trying to understand technology within a cultural or even environmental context. For her graduation project she travelled through China, trying to reveal the social impact and future potential of the mobile Internet. The result is no run of the mill business report, but a personal work with observations and opinions. Jidi is thinking about returning to China to work and to master the language, as it will undoubtedly be useful for future job opportunities. She is interested in gaining more general experiences overseas, as her five years in Amsterdam has made her restless and curious about what other places have to offer.
MA in New Media, University of Amsterdam
BA in Communication Science, University of Amsterdam
Internship at Vandejong
Guest post on Techrice.com
Roland Keesom
website: www.rolandkeesom.com
YOUNG AND UPCOMING TALENT IN PROGRAMMING AND INTERACTION DESIGN.
For his graduation project Roland Keesom developed an iPhone app that serves as a storage device for our ´last wishes´ in life. The app was partly designed as a fun game for young people to make them aware of themes surrounding our the things we wish for as we approach the end of our lives. Roland Keesom has a Bachelor's Degree in Communication and Multimedia Design from the University of Applied Sciences in Amsterdam. Within the course programme he focused on the area of Interaction Design and Programming. Roland also has a passion for games and is a fan of E-sports. He is a member of the professional Starcraft E-Sport community.
In his final year Roland worked on a Stop Motion Lego animation film during the workshop Schermen met Beelden. At the creative agency The Sign Creative Communication he worked on the improvement of their online magazine. He created a Flash Content Management System (CMS) to simplify and speed up the editing of the magazine. He also worked on another project for The Sign Creative Communication Company: Roland developed a website for the new building project De Draai for the local government in Heerhugowaard. Roland worked on the concept, and advised on the interaction design and information architecture.
BA in Communication and Multimedia Design from the University of Applied Sciences in Amsterdam
Schermen met Beelden Workshop – Stop Motion Lego animation film
Stefan Terwijn
website: miraclebooks.blogspot.com
DEVELOPING INTERACTIVE CHILDREN'S BOOKS THAT COMBINE EDUCATION WITH FUN AND THE INTERACTIVITY OF THE iPAD.
Throughout his studies at NHL University of Applied Sciences, Stefan Terwijn has been interested in creating software that stimulates education. For his graduation project he created an interactive book for children aged between four and seven. He cleverly combined the interactive elements of the iPad app with the storyline so that the experience requires more than merely tapping the screen. For the readers, it's as if they are working together with the character to help him solve the problem. In the future Stefan wants to create more apps that are fun to play, but which at the same time educate young children without them even noticing.
Stefan and some of his friends started their own company and created software for Educatief, an educational publisher, as a part of their software environment. He did his graduation internship at Playability, where his work included a game and an educational introduction film about diabetes. Stefan was also part of a team that created an educational TV production where they created the entire concept and script as well as all the characters and their different roles.
BA in Communication and Multimedia Design, NHL University of Applied Sciences
Internship at Playability, computer games
Graphic designer at Miracle Arts, e-learning company
Specialties: Drawing, Character Design, Game Design, Education, Serious Games
SERVICE DESIGN
Marcel van Heist
website: www.marcelvanheist.com
REDEFINING THE ROLE OF A DESIGNER, ENABLING PEOPLE TO INNOVATE BY PROVIDING THE RIGHT TOOLS.
Marcel van Heist studied Industrial Design at the Eindhoven University of Technology. His education taught him how to find opportunities in abstract visions, visions that fit today's market and society. He designs thing that people actually want, because the end user is the main focus of his work from day one. Marcel applies this 'design skill' more broadly in his work. What can we do with this design method when dealing with important issues relating to the environment, the energy and economic crises, etc.?
He first explored this in a project called Eco-Currency (www.eco-currency.net). Using design, or design thinking, he made a concrete proposal that would link the environment and the economy. For his graduation project he took on another significant issue: the energy situation in India, to investigate how design could improve the situation in India and as an experiment into sustainably distributed energy networks. Two trips to India resulted in a model village where energy sharing is economically beneficial for the customer and the entrepreneur. The design enabled the local inhhabitants to create the system. His role was to design the tools to make it possible.
Puck Peijnenburg
website: www.puckpeijnenburg.nl
Creating insights about the user and service provider in quality journalism.
Puck Peijnenburg graduated as a Communication Multimedia Designer from Rotterdam University with a minor in User Experience Design. She is currently working as a freelancer. Puck's graduation project was at NRC-Media, a quality Dutch newspaper. She investigated ways to create new services. Her research focused on content and context, examining how these could be used such that the results would be interesting for users and stakeholders alike. Puck added more value by creating insights into users' needs and the organisation's working process.
Puck has worked on a broad variety of products and services. Puck made a prototype for an iPad application for a Dutch newspaper. Metadata from the TV programme and the daily newspaper are used to create an application that couples the timeline and topics of the TV broadcast with the newspaper articles. Puck intends to do more projects that are user centred, where she can create insights about the user and the service provider. Think about the digital possibilities for both and add value to their services; test, evaluate and improve processes and services.
BA in Communication and Multimedia Design, Rotterdam University of Applied Science
Graduation internship at NRC
TRANSMEDIA
Charlie Berendsen
website: http://charlieberendsen.nl
INFORMATION DESIGN = HYPERLINKING.
Charlie Berendsen works in the field of Information Design where he says data (input) and poetics (output) meet after the link (design). His graduation project Primitive [x Capsule tried to capture the form of an object using technical language, to arrive at a form-essence between the object and the writer. Charlie has a Bachelor's Degree in Interaction Design from the ArtEZ Institute of the Arts. He worked as an intern for the Lab[au] Laboratory for Architecture and Urbanism in Brussels. His art works have been featured at various festivals and art fairs including TodaysArt Festival and GoShort Festival.
Charlie's project Melody & Memory, the Melodic Transformation of Smoke on the Water is an info-documentary about the relationship between musical melodies and human memory. Another project is American Speech. A text described two events that took place at the same location, but which told two different stories.
By expanding this idea of using 'the same material' but having different outcomes, he re-organised the text as a card game. Each word became a card, and the value of each card was determined by how important the word was for the text. The goal was to create a grammatical correct sentence.
BA in Information Design, the ArtEZ Institute of the Arts
Didi Koller
website: www.didikoller.nl
´CROSSMEDIA IS SO YESTERDAY…´ THIS TRANSMEDIA PRODUCER WILL MAKE STORYWORLDS COME TO LIVE!
Didi Koller works at Woedend!, a communications agency in the heart of Amsterdam. The goal of the company is to make advertising that does not come across as advertising. They want to add value to people's lives through creativity and innovation. Making people smile is what it is all about. Didi has a Bachelor's Degree in Communication and Media Management and specialises in transmedia projects. Her main course was Technology, Design and Interaction. She followed a minor in Television to improve her knowledge and skills relating to the audiovisual aspect of media (both editorial and productional).
One of the projects Didi was involved with was 'Sam and his Worldkids-Reporters'. Radio Netherlands Worldwide and MediaLAB Amsterdam asked Didi and her colleagues to produce a transmedia project for expat kids, who have to cope with a lot of issues when they move abroad. To help them Didi made an online series that included drama, educational assignments and social media. She was one of the first people in the Netherlands to launch a transmedia project such as this.
BA in Communication and Media Management, Amsterdam University of Applied Sciences
Transmedia project www.wereldkids.nl
Lisette van Blokland
website: linked.com
ENTHUSIASTIC NEW MEDIA SPECIALIST WITH AN INTEREST IN TRANSMEDIA, ONLINE COMMUNITIES AND CONVERGENCE CULTURE.
Lisette van Blokland developed an interest for the cultural implications of new media during her Bachelor's programme. Her Bachelor's thesis explored the working processes of a hacking community producing grassroots software for the Xbox. During her Master's course in New Media and Digital Culture she did an internship at the Dutch public broadcasting company, where she developed the social media campaign for the television series Beagle. Her Master's thesis on the transformation of television in the age of web 2.0 is based on research she did into the medium specificity of social media and the behaviour of the Beagle audiences.
As a freelancer, Lisette has worked on a variety of projects, starting with Flamenco Biënnale's social media campaign. She blogs about transmedia storytelling, production and distribution for From Story To Legend, a Dutch platform that intends to strengthen and stimulate the Dutch transmedia sector. She is the co-founder of DEBITE, a debate series on new media. She also worked as a project manager for the Kunstfactor and Utrecht University conference 'Creating Communities: What Makes Them Tick?'. Her ambition is to keep working on interesting (trans) media projects that enable the audience to participate in new ways.
MA in New Media and Digital Culture, Utrecht University
BA in Language and Culture Studies, Utrecht University
Co-founder of DEBITE
Responsible for the online communication at the Dutch Theatre Festival
Nik Sluijs
website: www.niksluijs.nl
COMMERCIAL CREATIVE FOR THE DIGITAL ERA.
Initially, Nik Sluijs intended to be a professional football player, but unfortunately lacked the talent. He decided to dive into architecture. After spending two years at Delft University of Technology, it was time for him to pursue his true passion: Advertising. He regards this as a casual field where commerce, creativity, technology and extensive lunches meet. He studies Advertising at the Willem de Kooning Academy (Rotterdam) and has a minor in Crossmedia and Technology. He has worked for creative agencies such as Fitzroy, Selmore and Mortierbrigade (Brussels). Currently Nik is doing a five-month creative internship at N=5, the largest independent advertising agency in the Netherlands, with clients like KPN, LOI, Mercedes-Benz, NUON, Telfort and XS4ALL.
Nik created the Beachmaster Blurshirt, a shirt that protects the wearer from going viral in a bad way. If a picture of the shirt is uploaded to Hyves, the special print will be automatically recognised and the face of the person wearing the shirt will be blurred beyond recognition. In the near future, Nik hopes to witness the full integration of the offline and online world, and to make work that truly changes the way people think or act. His ambition goes far beyond just selling the next best strawberry-flavoured soda.
Studying Advertising at Willem de Kooning Academy
Studied Architecture at Delft University of Technology
Minor in Crossmedia and Technology, Willem de Kooning Academy
Internship at N=5
Sarah Janssen
website: www.sarahjanssen.com
CREATING ARTWORKS THAT EXPLORE OUR VISUAL LANGUAGE BY COMBINING DIFFERENT KINDS OF MEDIA.
Sarah Janssen is specialised in working with photography and video, which she likes to combine with new media to create interactive or web-based work. Sarah received her Bachelor's Degree in Design from the ArtEZ Academy of Art and Design, Enschede, in 2009. In 2011 she finished the Master of Fine Arts Interactive Media and Environments course at the Frank Mohr Institute in Groningen. For her graduation project cineanalogies she analysed the visual language of cinema. Fascinated by the fact that certain stereotypic images occur in all kind of movies, she created diverse artworks in between the fields of new media, design, (pseudo-)scientific research and art. The results of this project are presented using a multitude of media, such as animation, video installations, illustrations, infographics and data visualisation software.
Sarah's work deals with our viewing habits and the effect images have on our daily lives. She is interested in how we perceive images, how our media culture influences the way we look at things and where the limits of our perceptions are. Finding a way to transform her research into visual interesting artworks is a topic she wants to explore further in the future.
MA in Interactive Media and Environments, Frank Mohr Institute
BA in design, ArtEZ Academy of Art and Design
Graduation project cineanalogies
Created the interactive game ARpuzzle, a large-scale game for kids shown in the exhibition Schoolplein van de 21e eeuw
Share